Registration Information What you need to know about the Urban Slide!
The Urban Slide is the coolest Slip N' Slide in the world! Regardless of how many times you take a trip down the 1000ft adventure you are bound to have a great time! Registering is easy, but there are a few important regulations you need to know before you begin.
You must be at minimum 44 inches tall (3'8″) to go down the Urban Slide
Most clothing is acceptable, however we cannot allow anyone wearing jeans or any clothes with rivets on the slide, sliding in underwear won't be allowed either so come prepared!
Tennis shoes are not allowed on our slide. Pool shoes and sandals, however, are permitted; just be sure to keep your feet and legs up and not drag them while going down the slide, as this will slow you down.
Locaton And Parking:
We will slide on George Williams Way just north of 6th Street. Parking will be at the sports pavilion.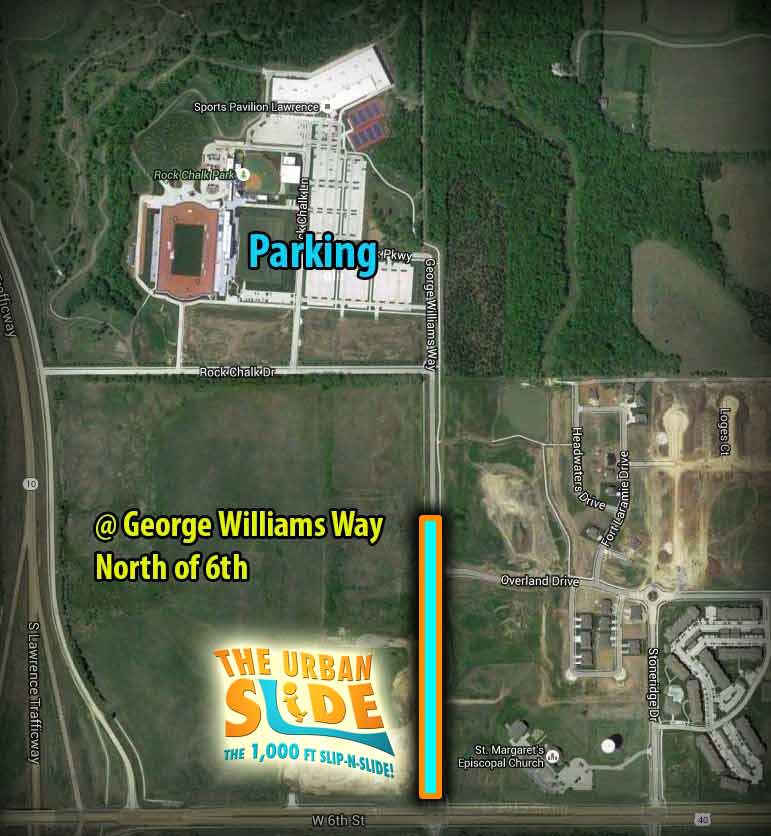 The Urban Slide will run from 12:00pm-6:30PM with the night session being from 8:00pm-10:00pm on Saturday, and 10:00am-5:00pm on Sunday.
If you have further questions about the event please check out the FAQ page.
For sliding tips on how to go fast and far, check out the Sliding Tips page!

Click for Saturday registration
Click for Sunday registration
Event Day Information – What do I do the day of the event?
To begin, you will need to get to our event. We will have suggested parking areas marked on our map a little closer to the event, but please be prepared to walk a short distance to reach our event area.
Once you reach the event area, first head over to the check-in tents.

You will need to present both an ID and either an E-ticket or a printed confirmation receipt.
You do NOT need to bring a physical signed waiver for the event, as waivers are digitally signed online during registration. If you purchased a Groupon or LivingSocial deal, however, you will still need to sign a paper waiver after registering on this page using the provided code. In this case, we can provide a waiver for you at check-in OR you can

download and print one here.

There you will receive the wristbands that you purchased with your registration. You will need these items to go down the slide so be sure not to lose them!
Once registered and good to go for the slide of your life, check out our event area, watch others slide, and figure out the coolest pose that you can pull off while sitting in an inner tube while you wait your turn for the best slip n' slide in the world.
Involvement – What can you do at The Urban Slide if you don't want to slide?
Spectators are always welcome at The Urban Slide, you do not need to pay to be a spectator at our event.
Want to be a part of this event but not a fan of sliding? Feel free to volunteer at The Urban Slide! There is always work to be done at this event and your help will be greatly appreciated.
Want to put your product or service in front of thousands of people who are all looking to have a great time? Contact us at sponsorship@theurbanslide.com after filling out our sponsorship form. Click here to be taken to our sponsorship form.
Are you the leader of a charitable organization and want your group to be involved in The Urban Slide? Contact us at fundraising@theurbanslide.com after filling out our fundraising form. Being the named charitable organization of our event leads to plenty of exposure for your cause and a chance for donations from our generous participants.Click here to be taken to our fundraising form.